STORY:
Millennium Dawn Postmark Unveiled
Easternmost US town ready to stamp special Millennium postmark
There's no special Millennium Year U.S. postage stamp, but the U.S. Postal Service chose the Easternmo st Point of the United States for two distinctive cancellations.
West Quoddy Head Station, Lubec, Maine, will postmark envelopes on January 1, 2000, with a cancellation which reads, "First Light of the New Millennium". On New Year's Eve, December 31, 1999, the cancellation reads, "Last Light of the Old Millennium."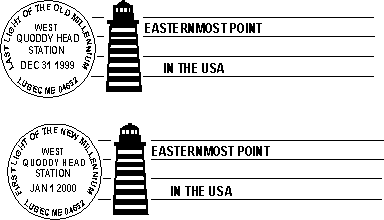 Collectors should send their pre-addressed pairs of envelopes now to Postmaster, West Quoddy Head Station, Lubec, ME 04652. Affix the usual 33 cents postage to each envelope, or include a money order for 33 cents worth of stamps for each envelope you send, made payable to Postmaster. Attach notes to your envelopes showing which are to receive the December 31 cancellation, and which the January 1.
Eager collectors may want to use the 1990 West Quoddy Head Lighthouse stamp (Scott #2472) which portrays the actual easternmost point of the U.S. where the "First Light" of the Year 2000 arrives. This stamp is out of print and not available from the Postal Service, only through stamp dealers. It's a 25-cent stamp so you'll need to add eight more cents of stamps to make up the current first class rate.
More information, including pictures of the cancellations (and of that lighthouse stamp), is available at www.nemaine.com
DATE: 12/3/99
For more E2000 stories, click here:
news | events | Y2K | today's news | life | party | stew