Millennium Celebration Certificates
Museum quality printing (8" x 10")
Official Millennium 2000 Holographic Seal
Waterproof, tear-resistant paper
Your name prominently positioned
Signature line for guests
A collectible souvenir suitable for framing
Order now! Pricing ranges from $3.-$5.
Call (800) 549-1833 or click here for pricing
Visit our website: www.wayfinder.com/2000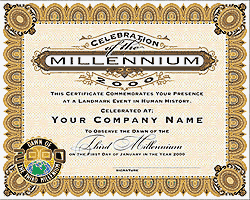 The
Classic
Certificate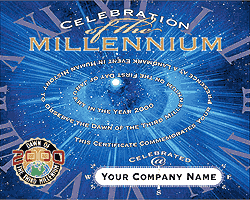 The
New
Age
Certificate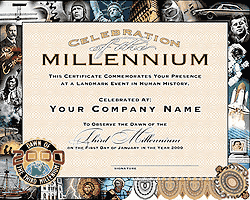 Millennium Milestone Certificate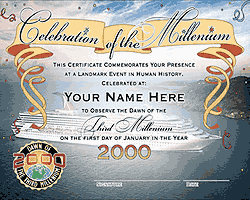 The
Custom Certificate
( You provide the photo background! )

Whether you're hosting your own private New Year's bash, a giant gala at a five star hotel, or you'd like to honor your company's employees...a Celebration of the Millennium Certificate will be a lasting keepsake.
Your name, business or party location are imprinted in a prominent position of honor.
These museum quality 8" x 10" certificates were created by award winning design John Widmer of Santa Barbara. They are printed on exquisite stock and feature a holographic full color seal that commemorates the Dawn of the Third Millennium.
For orders over 1,000 we can imprint your own custom photo as the background (see custom style page on our Website).
Visit our Website at www.wayfinder.com/2000 to view all our designs. Click here for pricing and how to order. Or call Toll Free 1-800-549-1833.

---

Contact Information:
Slade Creative Marketing
P.O. Box 484
Santa Barbara, CA 93102

Toll Free: (800) 549-1833
Sales Manager: Dave Wilk (805) 688-8427
Facsimile: (805) 686-5657
Email: [email protected]



Books
Collectibles
Celebration Supplies
General Merchandise
Travel Packages
Y2K Computer Solutions
Y2K Preparedness


Amazon Books

general

historical

goal setting

spirituality

prophecy
Link to Us





Countdown Clocks


personal


download


screensavers


commercial


vendors





Send Us Your Product

News
Today's News
Event News
Everything Weekly
Y2K News
Entertainment Update
Millennium Baby Update
Millennium Photos

Destinations


United States


Mexico


Canada


South America


Europe


Great Britain


Africa


Middle East


Asia


Down Under


Antarctica


Caribbean