The Millennium Countdown

January 11 - Photo by Evan Eile, Millennium Picture Group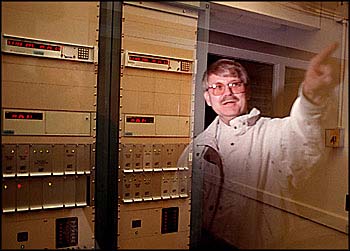 Dr. Stephen Dick, a historian at the U.S. Naval Observatory in Washington is reflected in the glass of one of the rooms that houses what they call the Master Clock. The clock is actually a group of 50 Cesium 133 atomic clocks that are linked to two hydrogen maser atomic clocks. This network of clocks accounts for 40 percent of what is computed to be the world standard of time.



January 12 - Photo by Evan Eile, Millennium Picture Group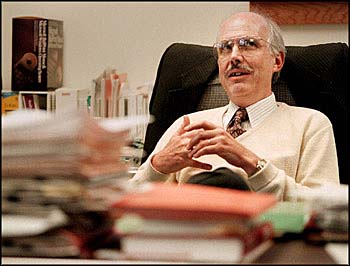 Dr. Dennis McCarthy, head of the Directorate of Time in Washington, discusses New Year's Eve plans and other millennial issues in his U.S. Naval Observatory office. "Most people are looking at the wrong year," McCarthy says of the popular notion of the millennium turning in 2000. "There must be something magic about those three zeros in the number 2000."



January 13 - Photo by Evan Eile, Millennium Picture Group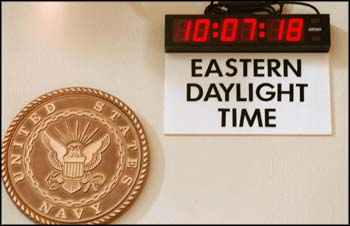 A clock shows the times at the U.S. Naval Observatory in Washington, D.C. Technicians at the Naval Observatory have begun counting down the seconds until the arrival of the third millennium—though they differ with conventional wisdom as to when the third millennium begins.



January 14 - Photo by Chip East, Millennium Picture Group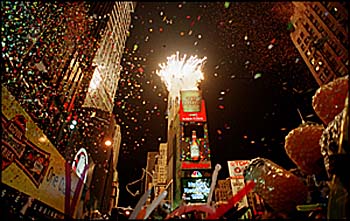 Explosions and confetti fill the air in Times Square in New York just after midnight on New Year's Day, 1999. This year's Times Square party is widely considered to be a dress rehearsal for the real party later this year, on the eve of 2000. The city is expecting over 500,000 party goers in Times Square and is still finalizing its entertainment plans. Organizers used this year's New Year's event to field test some of the features they plan to use for the next celebration.



January 15 - Photo by Ting-Li Wang, Millennium Picture Group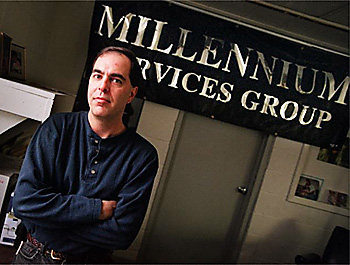 Scot Gardner, president of Millennium Services Group, stands in his Norfolk, Virginia office. Begun in September 1998, Millennium Services Group helps small businesses like night clubs, banks, and car dealerships to get their computers ready for the Year 2000 bug. Gardner says he urges people to "start reading and stop thinking the government and computer programmers will fix it." And he also advises people to stock up on dried goods and food supplies-- "Get ready, protect yourselve and your family," he says.

Photo countdown archive
52 | 51 | 50 | 49 | 48 | 47 | 46 | 45 | 44 | 43 | 42 | 41 | 40 | 39 | 38 | 37 | 36 | 35 | 34 | 33 | 32 | 25 | 24 | 20 | 17 | 16 | 14 | 13 | 9 | 8 | 7 | 6 | 5 | 4 | 3 | 2 | weeks to go...
If you have questions or inquiries about this section on Everything 2000, contact John Locher.
About The Millennium Picture Group
The Millennium Picture Group is nationwide partnership of photojournalists who are documenting how people and institutions are preparing for the turn of the Millennium. If you have picture ideas about Millennium-related events or preparations, or are interested in shooting for the MPG in your part of the country, please email Chris Hondros for more information.