April 5 - Photo by Chris Hondros, Millennium Picture Group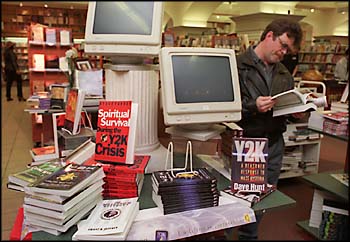 A customer looks over books on the table at Christian Publications Bookstore in midtown Manhattan that deal with the Year 2000 computer bug and millennial prophesy issues. Book department supervisor Kordel Davies reports an upswing in books the issues. The books are "selling quite well, as a matter of fact," Davies says. "We're probably expecting a few more titles by the end of the year, too." The store has enough titles to give millennial books their own display table near the front of the store.



April 6 - Photo by Ting-Li Wang, Millennium Picture Group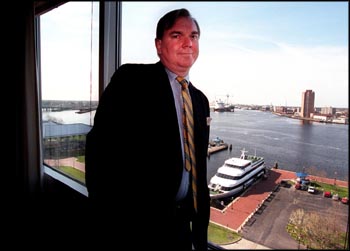 John Padgett, an attorney at McGuire, Woods, Battle & Boothe in Norfolk, Va., counsels clients like Circuit City and Trigon Health Care on the legal risks of the Year 2000 computer bug, as well as practicing international shipping and transportation law. Padgett predicts there will be more Year 2000 computer problems internationally than domestically. "Because of the interconnected ness of everything, one problem will ripple across the entire world. " he says.



April 8 - Photo courtesy of Radio Station ZM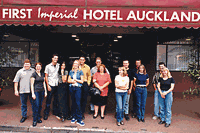 Radio Station ZM in Auckland New Zealand will broadcast live for 24 hours from the First Imperial Hotel Auckland, on April 9 - the date set as most likely to conceive a ZM Millennium Baby.100 couples will be given the chance to get their timing right.  Couples walk down the red carpet from 12 onwards on April 9th to check into their hotel rooms. Each room will be provided with a little romance, oysters, champagne, flowers, champagne glasses, even their own personal lubricant.



April 9 - Photo by Chris Hondros, Millennium Picture Group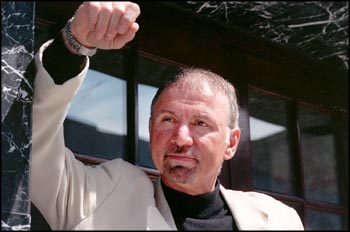 Steve Marco, president of Y2K Hideaway Inc., poses for a portrait in front of his Manhattan office. Y2K Hideaway is a travel provider that's providing escapes to the Caribbean for people worried about the effects of the Year 2000 computer crisis. Marco says he's "absolutely" expecting disruption in life in after the new year, and doesn't recommend people update their computer hardware or software to be Y2K compliant. "The biggest problem will be with the electrical grid," Marco predicts. "If that goes down, updating your computer is a moot point."

Photo countdown archive
52 | 51 | 50 | 49 | 48 | 47 | 46 | 45 | 44 | 43 | 42 | 41 | 40 | 39 | 38 | 37 | 36 | 35 | 34 | 33 | 32 | 25 | 24 | 20 | 17 | 16 | 14 | 13 | 9 | 8 | 7 | 6 | 5 | 4 | 3 | 2 | weeks to go...

If you have questions or inquiries about this section on Everything 2000, contact John Locher.

About The Millennium Picture Group
The Millennium Picture Group is nationwide partnership of photojournalists who are documenting how people and institutions are preparing for the turn of the Millennium. If you have picture ideas about Millennium-related events or preparations, or are interested in shooting for the MPG in your part of the country, please email Chris Hondros for more information.